We are a local Vancouver based company producing 100% fresh wellness shots. Base, of all our products, is cold pressed organic ginger root, freshly squeezed lemon and raw local clover honey. We offer different flavours and different ginger potency.
All the ingredients are juiced in house.
SHOP OUR BEST SELLERS
Turmeric Ginger Extract

Regular price

from $16.99

Pineapple Ginger Extract

Regular price

from $16.99

Ginger Tea
How to use ginger shots
There is no recommended daily dose. However, you can start off by drinking one shot (30ml) a day.
Straight up shot - drink one shot with your breakfast every morning to boost digestion.
Fresh ginger tea - pour about 30ml to your cup, top it up with hot water and enjoy your fresh honey, lime, lemon, ginger tea.
Refreshing ginger ale or mocktail - add one shot to sparkling water , mix together for ginger ale. Add a splash of orange juice and ice for mocktail.
Culinary use - another option is to use it in your kitchen. Use it in any dish where you want to add ginger flavour. Meat marinades, cookies, smoothies, lemonades, salad dressings.
Find us at farmers' markets
September 2023 Schedule:
Ladner 
September 10th
Vancouver - Trout Lake
September 9th
Vancouver - Mount Pleasant
September 10th, 24th
Vancouver- Riley Park
September 23rd
Vancouver - Downtown Farmers Market
September 6th, 20th
Vancouver - False Creek Farmers Market
September 14th, 28th
Coquitlam Farmers Market
September 3rd, 10th, 17th, 24th
Squamish Farmers Market
September 2nd, 9th, 16th, 23rd, 30th
Whistler Farmers Market
September 3rd, 10th, 17th, 24th
Surrey - Clayton Farmers Market
September 3rd, 17th
Tsawwassen Farmers Market
September 2nd, 16th, 30th
Loutet Farm North Vancouver
September 2nd, 16th, 23rd, 30th
Haney Farmers Market -Maple Ridge
September 9th, 23rd
Port Moody Farmers Market
September 13th, 27th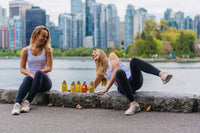 Who we are

Two girls with passion for a healthy lifestyle and with big dreams. You can meet us running the Vancouver seawall or working out in the park on a daily basis. We are active, energetic, dedicated and with positive spirits. We are committed to exceeding our customers' expectations and delivering a unique experience. That's what we believe in, what we do and who we are. 
Every single Ginger Extract bottle is handmade with love. We hope that you enjoy Nectaro as much as we do! 
Anet & Michaela
Customers reviews
Hands down the best ginger products on the market! Whenever my husband and I feel a cold coming on, this is our go-to! It gives you that good kick that you need! We also use it preventatively too :) Other ginger products just don't come close to this one! Thanks for making such a fantastic product!

Tammi Kinley
Health benefits with good taste

I love the turmeric with ginger taste so good. I add ginger with water in morning. My kids love pineapple and carrots. Amazing products. I'm keep ordering since I taste it. Good for immunity and trying to protect my family from this Covid and flu season. I got delivered so fast so thank you so much guys!! This Christmas I'm sending my family as a gift!!

Manjinder
The ginger-lemon-honey juice is excellent! It is the perfect blend to boost immunity. I tried this for the first time this week, when I was recovering from a cold, and wow it works!!!! I felt much stronger after even the first shot. I plan to buy more and try other flavours at the next farmer's market. Great concept and product, I highly recommend!

Rosemarie Ramsingh