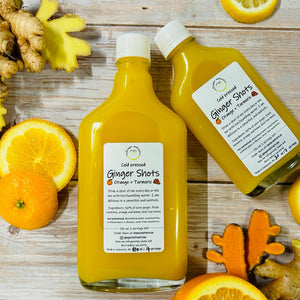 Orange Turmeric Ginger Shots
Fresh citrusy flavour with warm turmeric/ginger aftertaste is an absolute must.
Spice level  🔥 (mild)
Ingredients: Orange, Lemon, Organic Ginger, Local Honey, Organic Turmeric.
This flavour is the best for all ginger beginners or anyone who doesn't like burning taste of ginger but still wants to enjoy its health benefits. Orange Turmeric Ginger Shots are 100% made of whole, fresh, cold pressed ingredients.
This product has not been pasteurized, therefore it lasts for 30 days from the production day and MUST REFRIGERATED.
How to drink shots
Can be taken in pure form as a shot every day, mixed with water or SodaStream. One 210ml bottle (7 servings) is enough for the entire week.
There is no water, no additives, no artificial flavours and no preservatives added to our products. Never from concentrate.